After half a year in Austria, it was time for me to travel to the sea again. Due to Corona-related restrictions such as quarantine when entering or returning from many countries, my choice fell on Greece. With 14 June fell there the quarantine obligation with entry and thus I booked a flight to Athens.
For entry from Austria, only a PCR test (or certificate of recovery or vaccination) was required, as well as an entry form filled out online at least 24 hours beforehand.
(For your information: When returning to Austria from Greece, only a "Rapid Test / Anti-Gen Test" is required, which is only valid for 24 hours – i.e. must be done 1 day before departure. Information from the then status – this may have already changed again).
Athens
My first destination was Athens. For this I planned 4 days to see the most beautiful corners of the city. Fortunately, I had found a cheap accommodation directly in the city center via airbnb.
I generally like to look for rooms with balconies, as it is simply more pleasant to work from there in the weather.
There's nothing better than working in the fresh air and a nice view. Above all, this promotes creativity as well!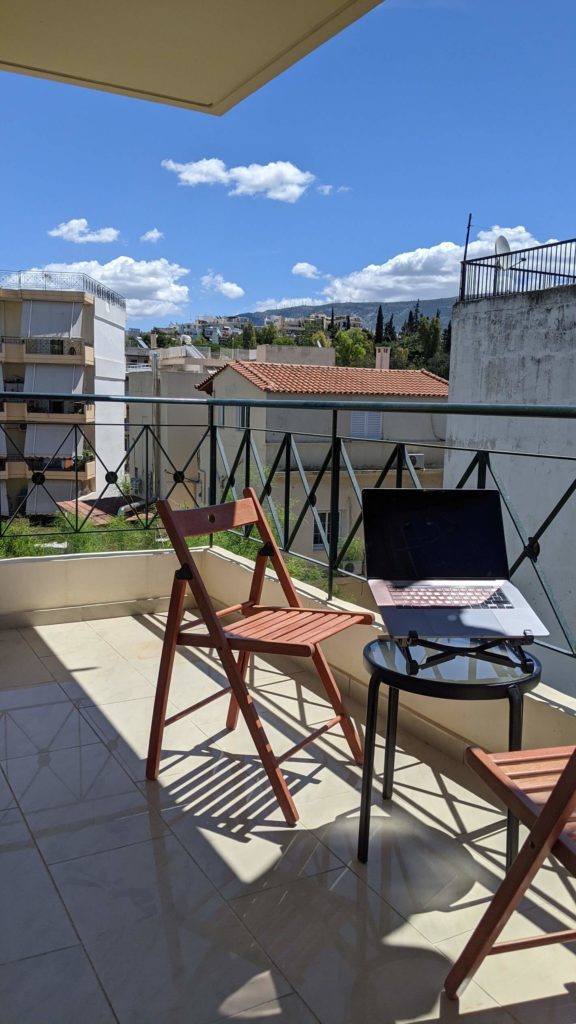 Getting from the airport to the city center was very easy. The metro goes almost directly there and cost 11€. In general, you can get around the whole city quickly with the metro in Athens.
From the apartment I could walk within 5-20 minutes to the most beautiful places and sights in the center. This is especially handy if you just want to take a break in between and explore the area a bit.
A visit to the Acropolis is a MUST in Athens. The entrance fee is 20 €. The view from the top is worth it. From there you have a panoramic view over the whole city and you can even see the sea.
Away from the sights, one also discovers weekly markets while strolling around Athens' streets. The many stalls offer not only fish but also a lot of fresh fruit (especially oranges from the plantations outside Athens) and vegetables.
Attention: You should rather avoid the part of the city north of the Acropolis – that's what the landlord of my apartment advised me. But the western and southern part is very safe for a big city.
In general, Athens is definitely a city worth seeing and the flights are usually very cheap. In the city, however, it can be very hot in the summer. From the two ports of Piraeus and Rafina, you can get a ferry very quickly to a beautiful Greek island. Read on part 2