Wow, time flies!
A year ago I had my last working day in an advertising agency (after 10 years as an employee). I feel like I was still sitting in the office with my work colleagues last week, yet that was really a whole year ago.
In the years before, I never wanted to be self-employed. I had my thoughts on my hobbies and so I never wanted to think about how much money would come into my account next month. This is of course very practical in employment, because you don't have to worry about it. In self-employment, of course, it looks quite different.
After I quit my job, I didn't really know what I wanted to do next. The plan at the time was actually just to change employers, just to get into a different environment, new people and new tasks. But then all that changed a bit…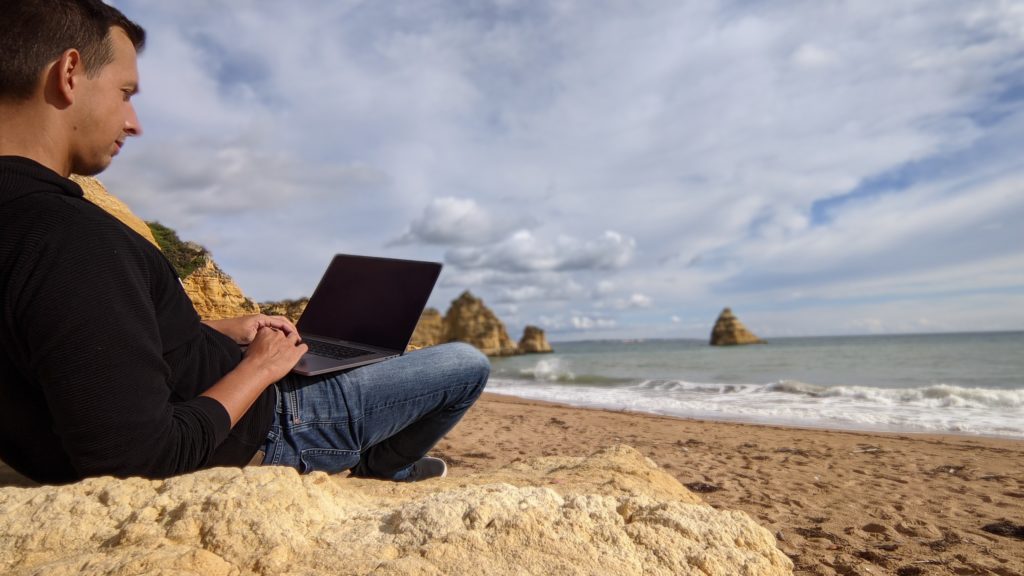 Two days after my last day at work, I boarded a plane that took me to the Algarve in Portugal. I joined a cool group for two weeks of coworking to spend work&travel together near the beach. During these two weeks I was able to meet some digital nomads. This exchange of experiences triggered so much in me and made me rethink. There is a whole other world of work out there besides working as I have known it so far, and it works too! My goals were clear. I don't want to be a digital nomad – but location independence and flexibility simply became more and more important to me and therefore I set it as a goal to be able to work more from different locations and thus enjoy life more.
To the 2 weeks I then added a week surf camp, because if you are already in the Algarve, you also have to learn to jump on the surfboard. After that, I extended my stay in Portugal for another 3 weeks, rented an apartment week by week (at times of Corona lockdowns, the rental prices were temptingly cheap) and then worked from there for another 3 weeks and explored the area in between.
When I came back to Austria, it was clear to me that I wanted to strive for self-employment in order to have more flexibility in life. The thought of being employed again was almost(!) dead for me. Why only almost? In March, I wanted to make sure I was really sure and had taken a part-time job at another advertising agency for a month to see if I wasn't mistaken or if moving to another agency might be enough. But no, being my own boss and being able to manage my time flexibly was simply more important to me, so I signed up for the business start-up program, which prepares me for self-employment.
Until the start of the program, my plan was actually to shut down for a few months and only work on projects that came up on their own, to enjoy the time a bit. I didn't expect that so many projects would come up through recommendations, so that I had enough work to work on for the whole of last year.
However, I still wanted to enjoy the remote work lifestyle and have shifted my work location from my home in Vienna to near the beach again and again. Thus, I was in total divided about 5 weeks in Greece on the road and have divided the time so that I work mainly in the morning and evening and in between the area (Athens, Mykonos and Thessaloniki) can explore. Oh yes, a few days in Valencia were also included as a "vacation". Also, during the time I worked from home, I spent a few hours on the surf wave (CityWave) in between. Such spontaneous leisure activities would simply not have been possible for me in a permanent position with fixed working hours, and so I enjoy the advantages of self-employment.
Now all this sounds like a dream life. Well, of course, self-employment has not only advantages. As mentioned above, you now have to see for yourself how you can fill up your bank account every month and cover your costs. And I'm not talking about the travel expenses, because I financed these largely with saved funds. In addition to your own fixed costs, you now have to add commercial costs. Income tax and legally required social security (includes health insurance, accident insurance and pension insurance) should not be underestimated. Then there are the running costs that you need to run your business. Okay, the costs in the digital industry may now be estimated lower than in other industries, but still you must not disregard licensing costs for software and equipment.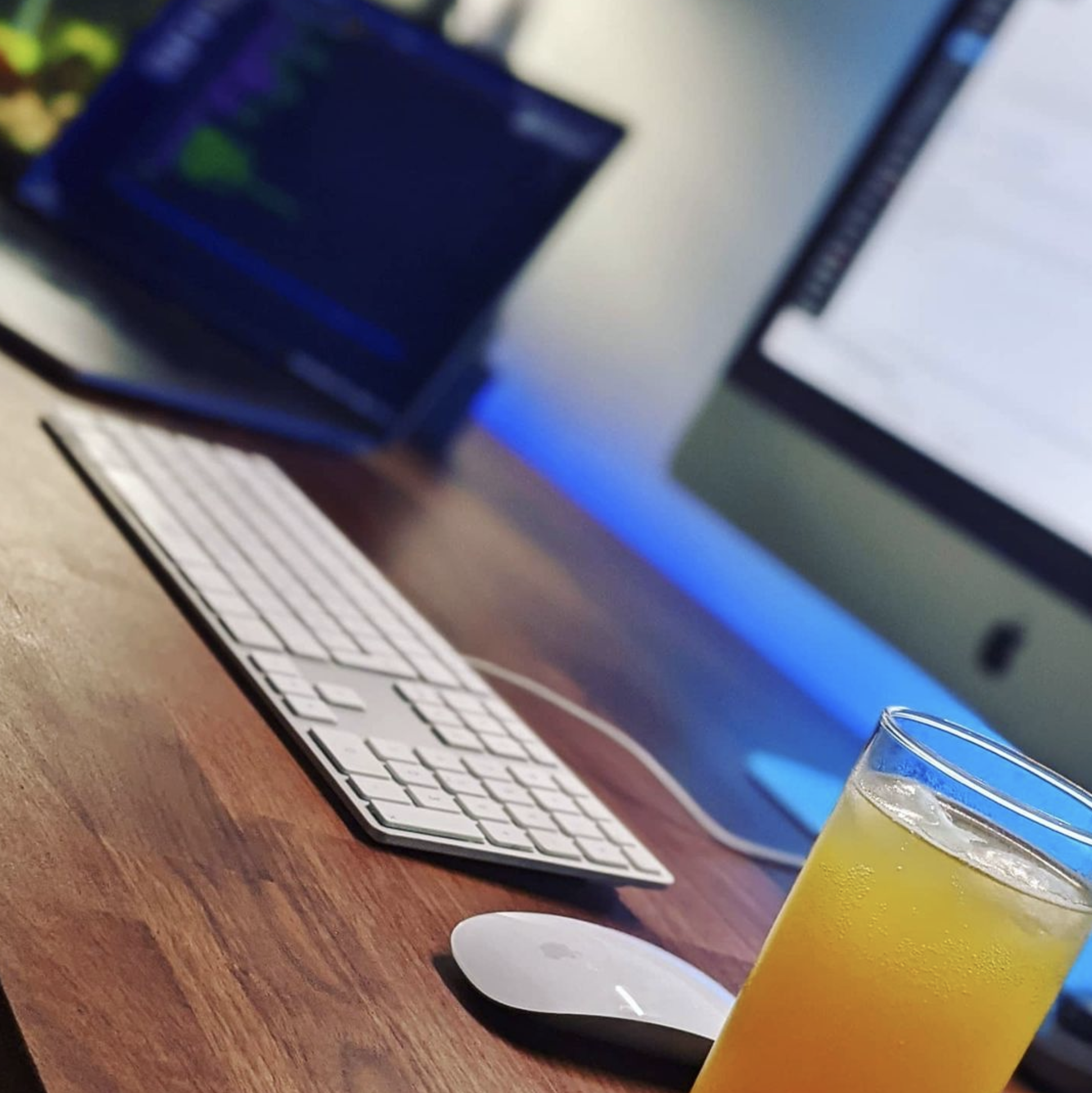 Time management can also be both an advantage and a disadvantage. In total, you usually work more in self-employment than in an employee relationship. Because in addition to the actual work, you also have to take care of other things such as preparing offers, customer acquisition, processing, etc.. Often these are many things that do not bring in any direct money at the moment. How much time and energy do you put into these things? Which processes can be optimized or even outsourced? Such questions arise again and again. Working on several projects at the same time as a lone fighter also requires a lot of energy and stamina. Time management is still a big issue, which I need to improve further.
Even though it takes a lot of energy, from my point of view the advantages outweigh the disadvantages and I enjoy the flexibility of self-employment.

My first year of self-employment actually went better than expected. Because I had already founded my business a few years ago alongside my full-time job, and had therefore already worked on a few projects on the side – at that time never with the goal of becoming self-employed, but purely for a change, to learn new skills and also as a side income – I probably already had a good start. Through recommendations I came so constantly new projects on which I was allowed to work in the last year as a small business.
During the last 4 months, I was also able to participate in many workshops through the business startup program, which built me up on the path to full self-employment. This program will run until the end of the year and from January 1, 2022 my first "real" year of full time self-employment will start. Then it really starts 😉
How was your start into self-employment? Or are you planning to start your own business? Write a comment, how you see it!